By Ahmet Abdulaziz (November 12, 2019 - cyprusscene.com)
On 27th October a Caretta caretta turtle, named "Astrid", was released to the sea, after undergoing major medical treatment at the Near East University Hospital and Taskent Nature Park and Rehabilitation Centre in the TRNC.
A satellite transmitter mounted on Astrid, is providing details of her journey in the Mediterranean Sea. So far Astrid has travelled for about 600 kilometres. The transmitter will keep on working for about a year. The Near East University is monitoring her movements, which will ultimately help in researching the movement of turtles in this area.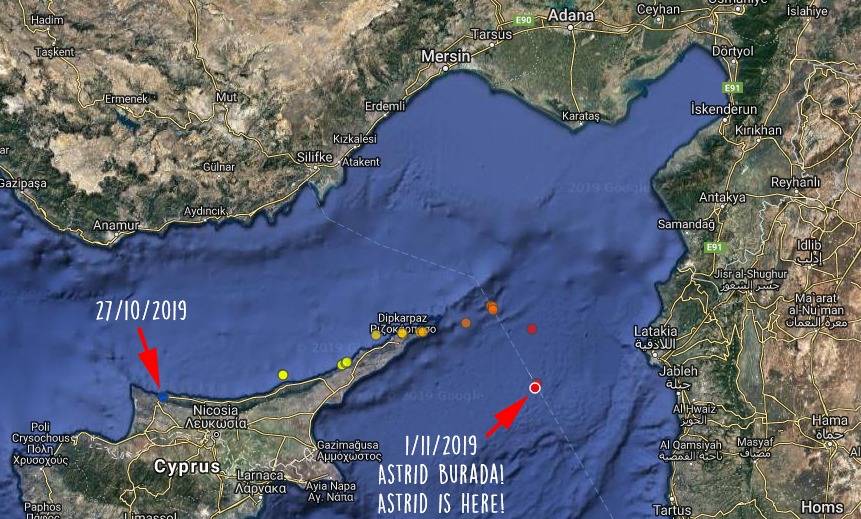 According to the information released by the Near East University, so far Astrid has travelled 600 kilometers in the sea, travelling towards the shores of four countries including Cyprus, Syria, Lebanon and Israel and is now in Syrian waters. The turtle is thought to be heading towards Egypt. It is wondered which destination it will choose for wintering.
Taskent Nature Park Director Kemal Basat, who shared information about Astrid's voyage, said that the turtle was followed by a satellite transmitter after being released into the sea and according to the data they received, it had travelled 600 kilometers so far and is now continuing its journey off the coast of Syria. Basat said "Astrid's journey has not yet finished, we are curiously waiting to see where she will prefer to winter. After four years of treatment and rehabilitation process and regaining its health, it was sent back to its natural life and within a 13-day journey, it went through the shores of four countries. It is possible that Astrid, which is currently living without encountering any problems, will find other Caretta carettas in the Mediterranean waters. We wonder where she would choose to spend the winter. We will continue to monitor the turtle's satellite data. We hope Astrid will survive fishing activities on this challenging journey and return to our shores to spawn again".
Assoc. Prof. Dr. Wayne Fuller, a lecturer at the Near East University Faculty of Veterinary Medicine, as well as the Cyprus Wildlife Research Institute Consultant Marine Turtle Expert, said that Astrid is following known migration routes and is now heading west towards the coastal waters of Egypt and the Nile Delta. Assoc. Prof. Dr. Fuller said, "After Astrid was released back to her natural life, she completed her journey to the east following the northern coast of Cyprus, then she headed south and is now continuing her journey towards the North African coastline. It seems Astrid is following other sea turtles. During her voyage, Astrid visited the coastal waters of Lebanon and Israel, and is now heading west towards the coastal waters of Egypt and the Nile Delta. This means that Astrid has so far traveled about 600 km in two weeks and has visited the waters of Cyprus, Lebanon, Israel and possibly Egypt. The North African coastline is a popular food gathering center for Mediterranean sea turtles in winter. Thus, in the coming weeks, we will be able to see Astrid settling in a winter place and filling the energy reserves".